Twilight Care provided at home

 is truly a special and dedicated type of caregiving for terminally ill seniors who are at the end stages of their lives. When caring for them, specialized care is most often needed.  The number of people age 85 and over–those most likely to need long-term care–is projected to increase fivefold in the next 40 years.  And given the projected cutbacks in future government funding in medicare and medicaid, more families will be expected and obligated to step up and fill the roles of in-home primary caregivers.
So, if you have a parent who appears to be exhibiting some early signs of heading in this direction with their health, you might want to visit this blog site. Learning as much as you can now will be to your advantage later.
Frankly, no age group is immune to finding themselves at an "end of life" existence.

   At age 73, physical examinations revealed that my mother had suffered from small brain strokes.  This later brought on Progressive Dementia.   As brain cells died, the symptoms of Dementia got worse.  She eventually needed constant and total care.  We, as a family, decided to provide that care at home.  And at some point, I volunteered to become her primary caregiver.

 ______________________________________________________________________________
 

CARING FOR THE TERMINALLY ILL
These days, more and more family members are choosing to care for their seniors at home. What about Hospice, you may ask.  Well, did you know:
Chronically ill seniors usually can live for many years at home with the right kind of care.   Studies have shown that they live longer at home than at medical facilities. 

Depending on your situation,

 you may not choose Hospice.  We didn't.  However, we still managed to provide and maintain quality healthcare.
With the right combination of family members, doctors, medical agencies and specialists to assist you,

many caregivers can now choose to provide sufficient healthcare at home for their terminally ill seniors. Once established, this arrangement can offer minimum medical staff intrusion and invasion of privacy.  This is what we did.  You can too.  _______________________________________________

SLAY
THE
GROOMING

  MONSTERS!

Grooming can be a beast if you don't plan correctly.  Bathing, hair washing and nails–oh my!  Not only do you stress out yourself, you also stress out and frighten your frail seniors as they have to endure the horrors of your performing this daily "labor of love" incorrectly.  We made it as easily on us as possible.  After performing these grooming tasks for so many years, maybe we can show you a few techniques.

_______________________________________________

Sooner than later,

our bed bound seniors must visit the hospital.  And usually we always hope that all we would need to do is to step aside and quietly allow medical staff to do whatever they deem necessary for your ailing aged one.
Not so.

  As primary caregivers, we must be significantly involved in decision making.  Certainly this is vital as you will frequently need to monitor a myriad of medical procedures which your senior may or may not need to undergo.  Remember.  Severely mentally impaired seniors may not be able to coherently communicate their needs.  They may not be able to speak at all.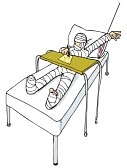 This is why as primary caregiver, one must learn as much as one can about her/his senior's medical conditions.  You must not be afraid to speak out on your senior's behalf.  You must not allow yourself to be pushed around by doctors or staff. 
So you may end up stepping on some toes.  I had no idea of how much effort it would require for me to  maintain effective communications with doctors about what I knew my mom needed and about what they thought she needed.  I had to learn how to co-exist with personnel and procedures of medical establishments.  
One must not be afraid to always ask questions, make requests and be persistent with doctors if you know something is not right for your senior.
_______________________________________________
 
Our wonderful medical institutions have certainly made many technological advances in medicines and machines. Laparoscopic surgery, for example, provides a great option to radical surgery. It also hastens healing time and reduces hospital stays.   Many of us are living longer because of them.  However,  these medical agencies all have their inherent issues.  So, when they clash with you and the needs of your ailing seniors, caregivers must strive to find ways to resolve these issues.  It's part of being a caregiver.
As "point man", you ultimately will be responsible for coordinating the various medical agencies which you will need to help you maintain quality health care for your senior.   Home Health, Hospitals, HMOs, and other facilities can undoubtedly be  headaches when operating within their environment.  For our family,  it appeared we often were  grinding through "the system" concerning our mother's health care.  Here are some important things you need to know about finding harmony within our medical agencies.  Your resolve will certainly be tested.
______________________________________________________________________

Caregivers must acclimate themselves to charts and journals when caring for terminally ill seniors at home.  I know.  It can be a pain to have to constantly record daily entries.  However, they are necessary.  Charts and Journals can help you keep track on various functions which you daily perform for you seniors. They help reduce stress when implementing schedules.   And they also provide history to help prevent duplicating different deeds. My sister and I employed them religiously.  We could not have given her the quality care that we gave her without them.  Certainly, she would not have lived as long as she did.  This is what we did.  _______________________________________________

During the course of caring for your senior, you will run across many tips and various advice about caregiving.  Some are good.  Some bad.  Everyone has their own home remedy.  I would suggest that when you are not sure about one piece of advice or another, always ask your senior's doctor.
That is what I did when my mom had recovering bedsores.  A female friend of mine gave me some great suggestions on healing them.   I discussed it with my mom's doctor. He approved it.  Subsequently, it advanced her healing.  Our whole family benefitted.
Eventually I had begun learning a thing or two myself about sharing ideas on caregiving –especially for  "end of life" seniors.   Frankly,  most of it comes from simply watching other professionals. Any time medical specialists visit your home to provide service, you have a golden opportunity to learn.   One of the biggest observation that I had noticed was:   everyone has his own way of doing things.   So find the right fit for your senior.
_______________________________________________
–And yes.   You are at this blogsite for a reason.  You too know that in-home caregiving is not for the "faint of heart".   It is a responsibility that should be taken very seriously.  One must be willing to offer their minds, bodies, and spirits.  There are no clocks. There is no finish line.   …
Let us be here for each other.
Godspeed!
..