WELCOME AND "THANK YOU VERY MUCH" FOR BEING HERE!
My name is Elvis Williams.   –And sorry, ladies, I will not be singing any songs today even if my favorite color is blue. Actually,  I'm here as a self-taught caregiver for "special needs" seniors. 
I received this type of training from my 14 years involvement with in-home caregiving.

  But, it didn't end there.  I also became quite knowledgeable from my constant and necessary interaction with the Healthcare system as it related to my mother's welfare.
In year 2000, my "hands-on" training began shortly after doctors diagnosed my mother, Ms. Mae Evelyn Williams, with having Dementia.  It didn't take long before I realized just how debilitating the symptoms were. And before I knew it, I had silently volunteered to make a life changing decision to become her primary caregiver for the rest of her life. Gradually, I watched her become ravaged by the progression of this insidious disease.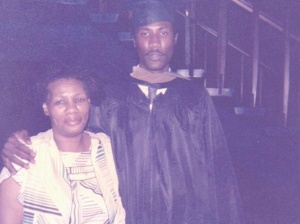 MAE AND ELVIS (SON) AT SSU GRAD.
–But, I am a BBA graduate.  I had managed retail stores.  Head office recognized me with "Manager of the Month" title.  They had featured me in the company's newsletter.  I also am honorably discharged Air Force.  But even before that, I had enrolled in Job Corps at the age of fifteen and graduated.  I had places to go and things to do.
Well, I certainly could not be in two places at once,  The type of  personalized care that I needed to provide for my mother would not permit it.  So my big question was:  full-time work or full-time caregiving?   The choice was obviously clear.  I opted to stay home and to help manage my mom's health care.
I wouldn't be home alone. My mother, sister and I all lived together.  The both of us provided caregiving for her.  We had decided that I would be the primary caregiving with my managing and organizational skill.  My sister, Arthurnette Williams, would work full-time on her job. Our other sister, Sheridan Robles, was married and lived out of town.   On occasions she would visit to help–whenever time permitted.  Too bad we did not have the extra assistance from our brother, Perry Williams.  He passed away of congestive heart failure at the age of 47.
All in all, the three of us worked together to support our mom.  This arrangement over the years had proved to be the right fit for our family.  
She lived many many years with her sickness.

  Everyone needs are different.  "Sometimes a piece of mother is better than no mother at all", she would often tell us.
Now, all we have left are precious  memories.  On April 2014, our mom passed away.  I can proudly say that I never regretted one single decision that I made back then. 
I thank God that we were there for our mother when she needed us the most.

  She would not have lived as long as she did if we all had not been there.
This is why I have decided to share with similar brave souls the benefit of my 14-years experience of providing in-home twilight care for end of life seniors with late stage Dementia.
Although my focus is primarily with Dementia issues, anyone can still benefit from this blog if he or she is providing home care for any "end of life" senior who is stricken with a terminal illness.  All are welcome.
So how can this knowledge benefit me, you may ask?
Well, you may be at the beginning of this arduous journey of providing specialized caregiving for your senior at home.  Or, maybe you are searching for someone to connect with concerning these medical and health matters.  You may also want to know how this blog can be different for you.
Consider this:  Doctors and nurses have a full staff to assist them.  At the end of the day, they get to go home.  I didn't have that. As an in-home primary caregiver, one must be willing to spend many solitary nights alone with the duties of caregiving.  So you must teach yourself how to be inventive, efficient and effective.   This is how I taught myself as much as I did.
Most important, there was more attachment and love in what I did.  Who can deny that medical staff can be just as impersonal as their medical instruments?   It's like playing a guitar without any sounds.  The general rule at hospitals often is:  "don't get personally involved".  Fortunately, I didn't have that luxury.  My training involved my mother's complete beginning to end of life experience with Dementia and the medical field.
Below are three main benefits that I can offer:
First, understand that as private as your family may be, providing palliative care at home for seniors who are at the end stages of life can be challenging, rewarding, and overwhelming.

  No one person can handle the entire process alone.  Primary caregivers, as soon as  possible, must quickly  assemble a regiment of medical personnel and agencies.  Various doctors, home health, social workers, and medical specialists must be sought to assist you with in-home caregiving in order to maintain quality health care.  Maybe my story can help relieve some of your apprehension if you are new to this.

Second, No matter how much help you may receive from others, too many times it will be you, the primary caregiver, who will often shoulder the bulk of the responsibilities.

  As my mom's disease progressed, I found myself inundated in the convoluted world of caregiving:  wound care, proper nutrition, daily hygiene, scheduled turnings, taking vitals, administering medications, managing chronic UTIs, nursing body rashes, daily monitoring, healing-preventing bed sores, managing pain, detecting signs of discomfort and maintaining daily activity charts (logs and journals).  Thus, primary caregivers must learn to be diligent, vigilant and often self-sufficient.  My techniques could give you a few ideas on helping you to achieve that.

Third, nowhere will the weight of caregiving be felt more than when negotiating and communicating within the  structured and strict world of our advanced medical institutions.

  Emergency rooms, hospitals, clinics, Home health agencies, doctors, nurses, appointments, various medicines, and a hodgepodge of medical procedures which your ailing seniors will have to be subjected to on many occasions will always be baying at your doorsteps. You must be willing to fight your way through the "system" by speaking up for the sake of your senior as the "human element" is always the real challenge.  Your resolve will certainly be tested.  You have to be "all in".  Can my unique story prepare you in some way?
Let's be honest. Some people strongly prefer to keep their families intact when a member is confronted with the need for "end of life" caregiving. 
Are you one of those who harbor "abandonment issues" of a loved one everytime  you consider entrusting her in the care of established medical institutions should they be faced with terminal illnesses?

  Then you might find this website uniquely beneficial to your special needs and concerns.  I've been there.  Maybe I can offer some guidance.
–And yes, the alternative reality is always that not all of us will be willing, able or prepared to handle this fantastic obligation of humaneness and duty.
Only few are chosen.

So, have the courage to accept the reality when you are no longer able to provide effectively at home that special level of care. Nursing homes or Hospice then may be the better recourse. Always periodically weigh the two choices when waning health issues can no longer safely be managed in your own dwellings. That option will always be there.
However, for those of us who are willing, able, and choosing to get prepared to accept that challenge of in-home caregiving, be encouraged. Like me, I became convinced that I would provide better care, comfort, familiarity and security for my mom at home.  I did that.
Well documented are nursing home horror stories! Sexual assaults, negligence, and other physical abuse are real. This is why caring for your loved one at home can be simply the best choice for you and your family's  peace of mind.
Can I help you with my story?  Maybe you can help me.  Let us be there for each other.